description
3D Haunted House - 3D silicone Chocolate Mould
Halloween Moulds for Chocolate and Halloween Moulds for cake decoration.
Trick or treat!

This is the mould of a scenic design created to put all the characters in the decosil® HALLOWEEN line, prepared in sugar paste and chocolate, it is ideal to be placed on the top of the Halloween cakes.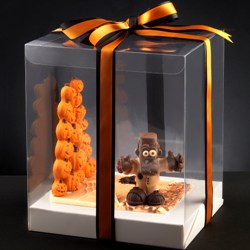 decosil® also offers the opportunity to purchase the bag for packaging: CO21X24X17 transparent box with white plastic bottom.
DIMENSIONS: b cm x h 21 cm x p 24 cm 17 box 25 pcs.
measures
Type of mould: 1 part kit 2 pcs.
Dimensions of the subject Backdrop: b cm 14,50 x h cm 16 x p cm 1,5
Dimensions of the subject Base: b cm 11,5 x h cm 16,3 x p cm 1,5
Dimensions of the mould Backdrop: b cm 17 x h cm 18 x p cm 2,4
Dimensions of the mould Base: b cm 13,2 x h cm 21,7 x p cm 2,3
n° of subjects per mould: 1
Weight of the kit: approximately 0,855 kg.
Step by Step
You might also be interested in the following products:
Product successfully added!