Handbag Milano mould
Handbag chocolate mould, purse mould, 3d chocolate purse mould, handbag silicone mould from decosil
...Often bought together: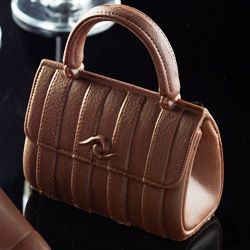 +

= 220,00 EUR
• Handbag Milano mould
95,00 EUR
• Stiletto Shoe Milano mould
125,00 EUR
description
Handbag "Milano" mould
3D silicone mould to create a chocolate handbag or a sugar pdz one.
measures
Mould tipe: 2 faces
Object Dimensions: b cm 8,9 x h cm 10,1 x p cm 4,7
Mould dimensions: b cm 12 x h cm 11,8 x p cm 7,3
n° of subjects per mould: 1
Mould weight: approx 0,492 + PLEX 0,134
Weight of the object made in chocolate: about 215 g. = 7.5839 oz.
Video
You might also be interested in the following products:
Product successfully added!