cod. decosil3040
multiple mould of 5 subjects
description
Small Butterfly Pattern mould
Multiple mould of 5 subjects
Mould for heart frame that can be used for casting or pressure colored sugar and transparent isomalt, pre-crystallized chocolate, ice cream, sugar paste, chocolate paste, marzipan and other masses of modeling paste.
This allows to have artistic results of chocolate and sugar for your cake and pralines decorations.
measures
Type of mould: 1 part
Dimensions of subject: b cm 5,8 x h cm 4,2 x p cm 0,6
Dimensions of the mould: b cm 27 x h cm 4,5 x p cm 1
n° of subjects per mould: 5
Weight of the mould: approximately 0,073 kg.
You might also be interested in the following products:

decosil3034

decosil3039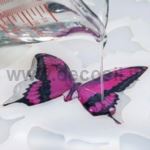 decosil2024
Product successfully added!