decoStick Cylinder
decoStick Cylinder, Snack of chocolate with nuts, decoStick for chocolate pralines sticks
cod. decosil14003
multiple mould 10 subjects
description
decoStick® Cylinder
multiple mould 10 objects
Small ice cream covered with roofs and decorated with elegant silk screen for a fine fresh meal and different from the classic dessert; they are made in different shapes.
In ice cream shop sold as small confectionery ice cream, are highly prized as an alternative to fresh pastries or ice cream takeaway, for elegant occasions.
measures
Mould type: multiple 1 face
Object dimensions: b cm 3,9 x h cm 5,5 x p cm 2,8
Mould dimensions: b 38,5 cm x h cm 10 x p cm 2,5
n° of objects per mould: 10
Mould weight: approximately 0,715 kg.
Step by Step
Ideas
From an idea of Gabriele Bozio for decosil comes a collection of moulds dedicated to the creation of subjects or geometric forms supported by sticks for snacks or desserts.
decoStick allows you to quickly create original finger-food and elegant appetizers, ideal for a buffet service.
Can be used with fluid products: chocolate, sugar, mousse, Bavarian, lollies, jellies or pastes such as ice cream, marzipan, steak tartare, fish or vegetarian.
Video
Recipes
Ministecchi gelato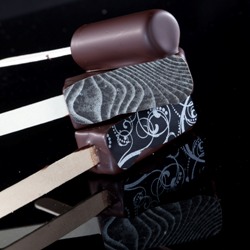 INGREDIENTI

PROCEDIMENTO

gelato o semifreddo

-
Posizionare il fermo dello stampo decoStik e inserire parzialmente i supporti nelle feritoie laterali facendoli scivolare fino alla fine del fermo, inserendoli solo per pochi millimetri nella forma; mettere lo stampo in abbattitore per alcuni minuti facendolo raffreddare bene.
Nello stampo bene freddo con la spatola riempire le forme premendo il gelato in maniera tale che non si formino delle bolle d'aria.
Lisciare bene la superficie eliminando il gelato in eccesso, inserire completamente i supporti per almeno un terzo della lunghezza della forma e abbattere completamente a -40 °C.
Sformare i ministecchi e conservarli in abbattitore fino al momento del glassaggio; fondere la copertura pinguino a 40 °C, glassare i ministecchi e posizionarli subito su i un foglio serigrafato per la decorazione.
Conservare i ministecchi per il consumo a -12/-14 °C.

copertura pinguino

-

fogli serigrafati

-

copertura pinguino

cioccolato fondente

200g

olio di semi

10g

burro di cacao

90g

Ideabrill
® è l'imballaggio eco-compatibile salvafreschezza brevettato da Esseoquattro Spa.
I test effettuati dall'Università di Camerino dimostrano che aumenta la conservazione degli alimenti e svolge un'azione isolante e protettiva nei confronti di luce ed aria.
Utilizzando questo tipo di incarto l'alimento, sia in fase di preparazione con lo stampo
decoStick
che durante la conservazione prima di essere consumato, manterrà inalterate le proprie caratteristiche, come sapore, odore, colore.
Anche congelato l'alimento si staccherà facilmente dall'incarto senza lasciare residui. Se vuoi saperne di più:
www.ideabrill.it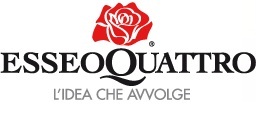 You might also be interested in the following products:
Product successfully added!