description
decoStick Half Cylinder
multiple mould 10 objects
decoStick for jellies
Jellies Fruit to be proposed as a natural alternative to fresh fruit as snacks for children.
Jellies flavored for infusions
When the warm weather ends what is better than an invigorating drink to fight the first cold days!
Thank decoStick your selection of infusions gets a new look, amaze your customer to serve him with his favorite hot beverage a special seasonings that will feature making it unique.
Choose the size of the moulds decoStick favorite among the four available:
Cuboid - Cylinder - Half Cylinder - Cube.
measures
Mould type: multiple 1 side
Object dimensions: b 3,73 x h 9,5 x p 1,7 cm
Mould dimensions: b 37 x h 9,5 x p 1,5 cm
n° of objects per mould: 10
Mould weight: about 0,692 kg.
Step by Step
Ideas
From an idea of Gabriele Bozio for decosil comes a collection of moulds dedicated to the creation of subjects or geometric forms supported by sticks for snacks or desserts.
decoStick allows you to quickly create original finger-food and elegant appetizers, ideal for a buffet service.
Can be used with fluid products: chocolate, sugar, mousse, Bavarian, lollies, jellies or pastes such as ice cream, marzipan, steak tartare, fish or vegetarian.
Video
Recipes
Mousse cioccolato bianco e nocciola su stecco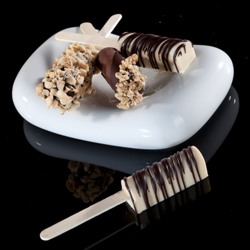 INGREDIENTI
PROCEDIMENTO

cioccolato bianco

500 g

Portare a bollore in una casseruola la panna con la pasta nocciola, allontanare dalla fonte di calore, unire e far sciogliere la gelatina precedentemente ammollata; unire anche il cioccolato e farlo fondere. Emulsionare bene il tutto con un mixer ad immersione e raffreddare il composto a 30 °C.
Nel frattempo preparare gli stampi decoStick, posizionare il fermo sulla base, inserire i supporti nelle feritoie laterali facendoli scivolare fino alla fine del fermo, inserendoli solo per pochi millimetri nella forma.
Montare la panna mantenendola cremosa, unire quindi il composto raffreddato in precedenza e colare negli stampi decoStick con il sac à poche riempire le forme facendo aderire bene il composto alle pareti dello stampo e facendolo fuoriuscire leggermente.
Spingere all'interno il supporto fino a circa metà della lunghezza della forma, con una spatola a gomito in posizione quasi parallela allo stampo premere bene all'interno delle forme il composto, inclinando la spatola rasare le forme eliminando il composto in eccesso.
Coprire con un foglio Ideabrill® oppure di carta da forno o di acetato fatto aderire bene e procedere quindi con l'abbattimento in negativo a -40 °C fino al completo indurimento del prodotto.
Quando il prodotto è ben abbattuto togliere la carta protettiva, togliere il fermo dalla base e estrarre completamente le forme e finire il prodotto decorandolo a piacere.
Lasciare rinvenire a 2-4 °C per il consumo.

pasta nocciola pura

80 g

panna fresca 35% grassi

350 g

gelatina in fogli tipo oro (bloom 190-220)

4 g

panna fresca 35% grassi

500 g

Ideabrill
® è l'imballaggio eco-compatibile salvafreschezza brevettato da Esseoquattro Spa.
I test effettuati dall'Università di Camerino dimostrano che aumenta la conservazione degli alimenti e svolge un'azione isolante e protettiva nei confronti di luce ed aria.
Utilizzando questo tipo di incarto l'alimento, sia in fase di preparazione con lo stampo
decoStick
che durante la conservazione prima di essere consumato, manterrà inalterate le proprie caratteristiche, come sapore, odore, colore.
Anche congelato l'alimento si staccherà facilmente dall'incarto senza lasciare residui. Se vuoi saperne di più:
www.ideabrill.it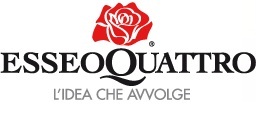 You might also be interested in the following products:
Product successfully added!