decoStick Cylinder
decoStick Cylinder, Snack of chocolate with nuts, decoStick for chocolate pralines sticks
cod. decosil14003
multiple mould 10 subjects
description
decoStick Cylinder
multiple mould 10 subjects
decoStick for jellies
Jellies Fruit to be proposed as a natural alternative to fresh fruit as snacks for children.
Jellies flavored for infusions
When the warm weather ends what is better than an invigorating drink to fight the first cold days!
Thank decoStick your selection of infusions gets a new look, amaze your customer to serve him with his favorite hot beverage a special seasonings that will feature making it unique.
Choose the size of the moulds decoStick favorite among the four available:
Cuboid - Cylinder - Half Cylinder - Cube.
measures
Mould type: multiple 1 face
Object dimensions: b cm 3,9 x h cm 5,5 x p cm 2,8
Mould dimensions: b 38,5 cm x h cm 10 x p cm 2,5
n° of objects per mould: 10
Mould weight: approximately 0,715 kg.
Step by Step
Ideas
From an idea of Gabriele Bozio for decosil comes a collection of moulds dedicated to the creation of subjects or geometric forms supported by sticks for snacks or desserts.
decoStick allows you to quickly create original finger-food and elegant appetizers, ideal for a buffet service.
Can be used with fluid products: chocolate, sugar, mousse, Bavarian, lollies, jellies or pastes such as ice cream, marzipan, steak tartare, fish or vegetarian.
Video
Recipes
Gelatine di frutta su stecco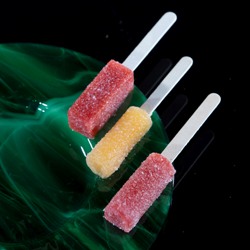 INGREDIENTI
PROCEDIMENTO

polpa di frutta fresca

1000g

Portare a bollore in una pentola capiente bassa e larga la polpa di frutta con lo zucchero semolato, lo sciroppo di glucosio e lo sciroppo di saccarosio invertito; a parte disperdere in maniera omogenea la pectina nella seconda quantità di zucchero semolato. Versare a pioggia sempre mescolando con una frusta questa miscela sopra la polpa in ebollizione e lasciar bollire il tutto fino a raggiungere i 75° Brix, misurandoli con il refrattometro.

Nel frattempo preparare gli stampi decoStick posizionando il fermo sulla base, inserire poi i supporti nelle feritoie laterali facendoli scivolare fino a metà circa della lunghezza della forma. Raggiunti i 75° Brix aggiungere a questo punto l'acido citrico, mescolare bene e colare riempiendo totalmente le forme lasciando defluire il composto in maniera naturale. Lasciare raffreddare il tutto, quindi sformarli e ripassarli nello zucchero cristallino fino a rivestirli completamente; sistemati su di un espositore o confezionati e sistemati a fianco della cassa sono un ottimo prodotto per la cosiddetta "vendita d'impulso".

zucchero semolato

700g

sciroppo di glucosio

300g

sciroppo di saccarosio invertito

250g

pectina (per confetture e gelatine di frutta)

20g

zucchero semolato

70g

acido citrico in soluzione 1:1

15g
You might also be interested in the following products:
Product successfully added!