description
Leaf "F" mould for sugar or chocolate
Mould for leaves to use with pulled sugar, sugar paste, chocolate paste and modeling chocolate for 3D cake ornaments.
measures
Type of mould: 2 sides
Dimensions of the mould: b cm 11,5 x h cm 5,5 x p cm 4
n° of subjects per mould: 1
Weight of the mould: around 0,208 kg.
You might also be interested in the following products: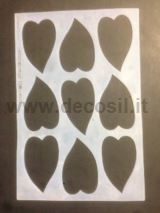 decosil2042
Product successfully added!