cod. decosil14012
multiple mould 5 mixed subjects
description
decoStick® Wood - Chocolate Lollies Mould
multiple mould 5 mixed subjects
decoStick® for chocolate-praline sticks.
Snack of chocolate with nuts and chocolate creams simply decorated or covered with chocolate sprinkles or crispy.
Multiple mould to 5 fingerprints to create chocolate on a stick in animal shape:
Wolf - bear - owl - curly - fox
The innovative decoStick® moulds for chocolate allow to obtain quickly and effortlessly with chocolates on a stick amaizing and irresistible decoration for young and old.
measures
Mould type: multiple 1 face
Subject dimensions: MAX b cm 6,7 x h cm 6,5 x p cm 2,3
Mould dimensions: b cm 39 x h cm 10,8 x p cm 2,3
n° of subject per mould: 5
Mould weight: approximately 0,824 kg.
Chocolate OWL subject weight 53 g.
Chocolate PORCUPINE subject weight 37 g.
Chocolate WOLF subject weight 43 g.
Chocolate BEAR subject weight 59 g.
Chocolate FOX subject weight 45 g.
Step by Step
Ideas
An idea by Gabriele Bozio
for decosil® becomes a lollipop moulds collection for creating geometrically shaped finger food with stick, both for standing buffet or table.

These moulds can be used with liquid products such as
chocolate, sugar, mousse, bavarian cake mixture, icicle, jellies fruit
or pasty products as
ice cream, marzipan and meat, fish or vegetarian tartare.
decoStick® is a food silicone mould composed by two parts: a soft translucent silicone base and a harder black silicone detachable lock which gives a greater stability to the mould.
Moreover, the latter, solidly blocks and supports the stick and allows to fill the mould with pasty products, prevents the fluid materials leakage, allowing to easily extract the subject from the mould without deforming it.
In the lower part of the decoStick® mould there are provided partial fissures that facilitate the faster cooling of the compounds in the blast chiller.
Video
How to make chocolate amimal faces lollipops
The Step by Step video instructions to create chocolate animal faces lollipops

You might also be interested in the following products: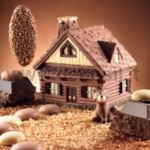 decosil5025
Product successfully added!