description
decoStick Parallelepiped
multiple moulds 10 subjects
decoStick to stick chocolate.
Raw snacks on a stick ideal for buffet service.
From sweet to savory, with the moulds decoStick you can create sweet preparations of chocolate or ice cream or savory preparations of meat, fish, cheese or vegetable served both raw and cooked.
measures
Mould type: multiple 1 part
Object dimensions: b cm 2 x h cm 5,5 x p cm 2
Mould dimensions: b cm 39,5 x h cm 9,5 x p cm 2,5
n° of object per mould: 10
Mould weight: approximately 0,654 kg.
Step by Step
Ideas
From an idea of Pastry Chef Gabriele Bozio for decosil comes a collection of moulds dedicated to the creation of subjects or geometric forms supported by sticks for snacks or desserts.
decoStick allows you to quickly create original finger-food and elegant appetizers, ideal for a buffet service.
Can be used with fluid products: chocolate, sugar, mousse, Bavarian, lollies, jellies or pastes such as ice cream, marzipan, steak tartare, fish or vegetarian.
Video
Recipes
Stick of White Chocolate and Hazelnut Mousse
How to use decoStick moulds with dense product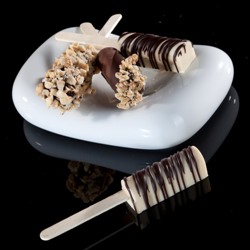 STICK OF WHITE CHOCOLATE AND HAZELNUT MOUSSE
INGREDIENTS

PROCEDURE

WHITE CHOCOLAT




PURE HAZELNUT PASTE

CREAM 35% FATS

GOLDEN JELLIES (BLOOM 190-220)

CRÈME FRAÎCHE 35% DE MATIÈRES GRASSES

500g




80g

350g

4g

500g

Boil in a casserole the cream with the hazelnut paste, take out from the fire, add up and melt the beforehand softened jelly; add up the chocolate and let it melt. Emulsify the mixture with a mixer and cool down at 30°C.

In the meantime prepare decoStick mould, place the lock on the base, insert supports making them slide until the end of the lock, insert them only for few millimeters into the mould.

Whip the cream maintain it creamy, mix the cooled down composed and pour in decoStick moulds, with pastry bag fill the moulds making well adhere the composed to the moulds walls, and let slightly come out.

Drive inside the support until about half of the mould lenght, with a spatula in parallel of mould, push the composed inside the mould, tilting the spatule, level the mould removing the excess.

Cover with Ideabrill® paper or baking paper, put in the blast chiller at -40°C until the complete product hardening.

When the product il well cooled down, remove the baking paper, remove the lock from the base, and demould. Decorate as you wish.
You might also be interested in the following products:
Product successfully added!