decoStick Cylinder
decoStick Cylinder, Snack of chocolate with nuts, decoStick for chocolate pralines sticks
cod. decosil14003
multiple mould 10 subjects
description
decoStick Cylinder
multiple mould 10 subjects
decoStick for chocolate pralines sticks.
Snack of chocolate with nuts and Cremini simply decorated or covered with chocolate or crunchy grains, packaged and presented next to the cash register is a very interesting product for the so-called 'instinctive sale'.
measures
Mould type: multiple 1 face
Object dimensions: b cm 3,9 x h cm 5,5 x p cm 2,8
Mould dimensions: b 38,5 cm x h cm 10 x p cm 2,5
n° of objects per mould: 10
Mould weight: approximately 0,715 kg.
Step by Step
Ideas
From an idea of Gabriele Bozio for decosil comes a collection of moulds dedicated to the creation of subjects or geometric forms supported by sticks for snacks or desserts.
decoStick allows you to quickly create original finger-food and elegant appetizers, ideal for a buffet service.
Can be used with fluid products: chocolate, sugar, mousse, Bavarian, lollies, jellies or pastes such as ice cream, marzipan, steak tartare, fish or vegetarian.
Video
Recipes
Minisnack su stecco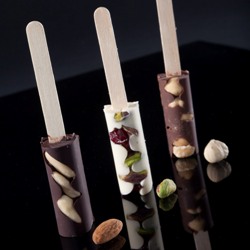 INGREDIENTI
PROCEDIMENTO
cremino base bianco
Posizionare il fermo dello stampo decoStick e inserire parzialmente i supporti nelle feritoie laterali facendoli scivolare fino alla fine del fermo, inserendoli solo per pochi millimetri nella forma; sistemare all'interno dello stampo della frutta secca sulla base facendo attenzione che rimanga al di sotto del livello del supporto in legno.
Colare il cremino, far scivolare il supporto all'interno per almeno un terzo della lunghezza della forma, vibrare leggermente lo stampo come di consueto per eliminare eventuali bolle d'aria e far cristallizzare completamente a una temperatura di 15-18 °C (oppure 5 minuti in frigorifero a 2-4 °C e poi a temperatura ambiente).
Sformare e sistemare su di un espositore, se confezionato e sistemato a fianco della cassa è un ottimo prodotto per la cosiddetta "vendita d'impulso".

cioccolato bianco

500g

pasta di frutta secca pura

250g

cremino base al latte

cioccolato al latte

500g

pasta di frutta secca pura

300g

cremino base fondente

cioccolato fondente

500g

pasta di frutta secca pura

350g
You might also be interested in the following products:
Product successfully added!