Glove, Ball and Baseball bat Mould
Baseball glove chocolate mould, baseball mitt chocolate mould,baseball ball chocolate mould, baseball bat chocolate mould. 3D Silicone baseball chocolate moulds.
description
Glove, Ball and Baseball bat Mould
Food grade silicone mould to achieve a Baseball Glove, a Baseball Bat and Ball with chocolate.
measures
Mould type: 2 faces
Subject dimensions: b cm 15 x h cm 4,7 x p cm 6
Mould Dimensions: b cm 17,5 x h cm 6 x p cm 7,3
Mould weight: about 0,434 kg
You might also be interested in the following products: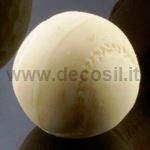 decosil17106
Product successfully added!