Often bought together:

+
= 80,00 EUR
• Igloo Half-Sphere LINEAGUCIO Mould
48,00 EUR
• LINEAGUSCIO Thermoformed Sphere Mould
32,00 EUR
measures
Type of mould: 1 part
Dimension of subject: diameter cm 13 x h cm 6,5
Dimension of the mould: diameter cm 13,5 x h cm 7
n° of subjects per mould: 1
Weight of the mould: approximately 0,268 kg.
ALL LINEAGUSCIO® SHAPES have a corresponding THERMOFORMED.
To use the LINEAGUSCIO® silicone moulds (Bell, Pine, Sphere, Egg) it is necessary to combine the thermoformed articles, consisting of 2 rigid parts needed to sustain the shells of silicone. The Thermoformed is a separate article and so it must be purchased separately. It is also interchangeable, so you can use it with all the shells of the same shape. The LINEAGUSCIO® moulds are an exclusive patent decosil®.
Code 12600 Thermoformed Sphere Mould kit of 2 pieces
Step by Step
Video
You might also be interested in the following products:

decosil12600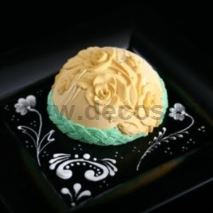 decosil12601
Product successfully added!