cod. decosil12610
LINEAGUSCIO
Often bought together: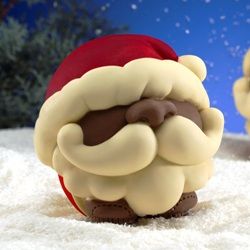 +
= 121,00 EUR
• Santa Claus Chocolate Ball LINEAGUSCIO Mould
89,00 EUR
• LINEAGUSCIO Thermoformed Sphere Mould
32,00 EUR
description
Santa Claus Sphere - LINEAGUSCIO® sphere mould
REMEMBER: to use LINEAGUSCIO® moulds you need to have at least one thermoformed Kit.
measures
Mould type: 2 faces
Santa Claus sphere dimensions: diameter 12,2 cm
Mould dimensions: diameter 14 cm
n° of objects per mould: 1
Mould weight: approx 0,512 kg.
Chocolate Santa Claus Sphere weight: about 600 g.
Step by Step
Video
You might also be interested in the following products:
Product successfully added!