cod. decosil12505
Mousse ai Lamponi
measures
Type of mould: 2 parts
Dimensions of the subject: b cm 12 x h cm 18,5 x d cm 10
Dimensions of the mould: b cm 14 x h cm 20,5 x d cm 12
n° of subjects per mould: 1
Weight of the mould: approximately 0,747 kg.
The Egg Holder is a separated article and so it must be purchased separately.
Code 12505-P Peach Tree Egg Holder
Dimensions of the subject: h cm 4 diameter cm 7,2
Step by Step
Recipes
Mousse ai lamponi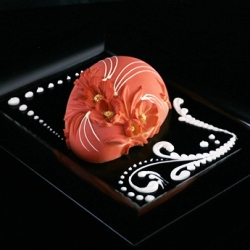 INGREDIENTI
PROCEDIMENTO

PUREA DI LAMPONI

500 gr.

Preparare lo stampo Lineaguscio cod. Art. 12505 e 12500.

Scaldare 250 gr. di purea e far sciogliere la colla di pesce già ammorbidita, aggiungere i rimanenti 250 gr. di polpa, incorporare il tutto alla meringa ed alleggerire il preparato con la panna montata. Ora colare la mousse nello stampo Decosil e lasciare stabilizzare in abbattitore per almeno un'ora. Rimettere in abbattitore per raffreddare bene la superficie. Servire su un piatto da portata decorato a piacere.

COLLA DI PESCE

15 gr.

MERINGA ALL'ITALIANA

250 gr.

PANNA MONTATA

500 gr.
You might also be interested in the following products:
Product successfully added!