Parchment for Girls mould
Parchment for Girls silicone Molds for 3D cake decorations First Confession
description
First Confession Parchment for Girls mould
The parchment for Communion is another way to decorate cakes; simply using and pouring white chocolate you can obtain a thin parchment that you can colorate at your own taste, and than add it on the cake.
measures
Type of mould: 1 side
Dimensions of the subject: b cm 10 x h cm 15 x p cm 1,8
Dimensions of the mould: b cm 11 x h cm 16 x p cm 2
N° of subjects per mould: 1
Weight of the mould: around 0,245 kg.
Ideas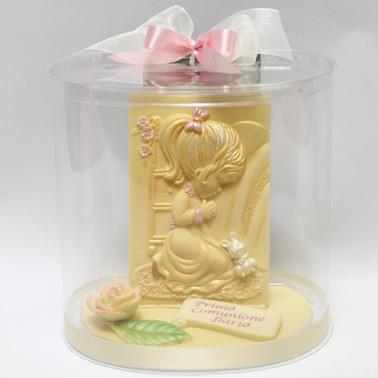 idee per bomboniere commestibili
Bomboniera Comunione bimba,
interamente in cioccolato, personalizzabile!!!
Realizzabile anche in pasta di zucchero!!!
You might also be interested in the following products:

decosil10004
decosil9012
decosil2003
Product successfully added!