Often bought together: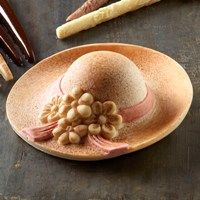 +




= 199,00 EUR
• Woman Hat mould
25,00 EUR
• Rose Leaves mould
55,00 EUR
• Small rose Chic Mould
20,00 EUR
• Duckling Noce Chocolate Mould
85,00 EUR
• Decor Small Roses mould
14,00 EUR
description
Woman Hat mould - Ladies Hat Chocolate Moulds
Mould to achieve a woman hat with chocolate or sugar paste.
measures
Mould type: 1 faces
Subject dimensions: diameter cm 7,8 x h cm 2,7
Mould dimensions: diameter cm 9,1 x h cm 3,1
Mould weight: approximately 0,098 kg.
Weight of the subject made of chocolate: 30 g.
You might also be interested in the following products:
Product successfully added!