cod. decosil1020
kit 2 pcs.
description
Heart case with Roses Mould - Ceremony favor -
decosil® offers the heart boxes, ideal for wrap in style and sweetness, a small and a great gift for Valentine's Day, for lover's birthday, for Mother's Day or as an original wedding favors.
A fascinating idea designed by Master Stefano Laghi and realized by designers decosil® which are always accurate to detail to make available to the imagination of the pastry many tools that allow to easily achieve masterpieces in chocolate or sugar.
measures
Type of mould: 1 side kit 2 pcs.
Dimensions of the subject cover: b cm 9,3x h cm 2,3 x p cm 8
Dimensions of mould cover: b cm 10,5 x h cm 2,9 x p cm 9,4
Dimensions of the subject box: b cm 9,3 x h cm 1,3 x p cm 8
Dimensions of the mould box: b cm 10,5 x h cm 2 x p cm 9,4
n° of subjects per mould: 1
Weight kit: about 0,193 kg.
You might also be interested in the following products: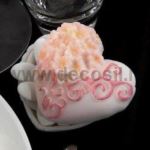 decosil1021
decosil1022
Product successfully added!