description
decoStick Half Cylinder multiple mould 10 objects
FIFA World Cup, this is a magnificent opportunity for using this moulds for ice lolly decoStick: let's decorate with the colours of flags or of teams and let's support with us!
decoStick silicone food contact moulds for mini ice lolly as an aperitif.
Mini ice sticks of fresh fruits or others ingredients for innovative cocktails in a modern appearance for astonishing customers and to be always purposeful in a evolving market.
measures
Mould type: multiple 1 side
Object dimensions: b 3,73 x h 9,5 x p 1,7 cm
Mould dimensions: b 37 x h 9,5 x p 1,5 cm
n° of objects per mould: 10
Mould weight: about 0,692 kg.
Step by Step
Ideas
From an idea of Pastry Chef Gabriele Bozio for decosil comes a collection of moulds dedicated to the creation of subjects or geometric forms supported by sticks for snacks or desserts.
decoStick allows you to quickly create original finger-food and elegant appetizers, ideal for a buffet service.
Can be used with fluid products: chocolate, sugar, mousse, Bavarian, lollies, jellies or pastes such as ice cream, marzipan, steak tartare, fish or vegetarian.
You might also be interested in the following products: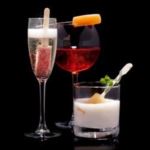 decosil14001
Product successfully added!