description
Reindeer and Sleigh with Santa Claus mould
WHAT WILL I DONATE THIS YEAR FOR CHRISTMAS?

Each year, it resonates the same fateful question and certainly your customers will be harassed.
Suggest alternative and original gifts that will not risk to end up forgotten in a drawer... but only to be eaten!

measures
Type of mould: 2 parts
Dimensions of the subject: b cm 11,5 x h cm 14 x p cm 8,5
Dimensions of the mould: b cm 13,5 x h cm 15 x p cm 11,4
n° of the subjects per mould: 1
Weight of the mould: approximately 1,050 kg.
Ideas
You might also be interested in the following products:

decosil4050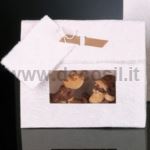 CR21X18X10
Product successfully added!