description
Champagne glass mould - Wedding cake topper and figurines
Usage:
- Let it drip till chocolate is solidified.
- Cut with scissors the residual parts.
- Remove the flut form the mould.
- level the edge on a hot flat surface.
Subject realized with isomalted sugar.
Professional silicone moulds for the creation of Wedding sugar or chocolate 3D cake ornaments
measures
Type of mould: 2 parts
Dimensions of the subject: b cm 6,5/9 x h cm 13,5 x p cm 9
Dimensions of the mould: b cm 10/13,2 x h cm 15,7 x p cm 11,5
n° of subjects per mould: 1
Weight of the mould: approximately 1,00 kg.
Video
You might also be interested in the following products: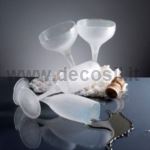 decosil3004
Product successfully added!