description
"Polenta" Italian Food mould
measures
Type of mould: 2 parts
Dimensions of the subject: b cm 8,5 x h cm 1,3 x p cm 3,1
Dimensions of the mould: b cm 12 x h cm 3,8 x p cm 6,6
n° of subjects per mould: 1
Weight of the mould: approximately 0,288 kg.
Recipes
Cremino alle mandorle
Ingredienti
Cioccolato bianco gr 670
Pasta alla mandorla tostata gr 180
Corn flakes gr 50
Riso soffiato gr 100
Colorante giallo Q.B.
Procedimento
Mescolare i vari ingredienti, temperarli a 25°C, riempire lo stampo, raffreddare, togliere dallo stampo.
You might also be interested in the following products: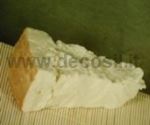 decosil13003

decosil13004

decosil13009
Product successfully added!