decoStick Wood Chocolate Lollies Moulds
decoStick Wood Chocolate Lolly Moulds - Chocolate Lollies Moulds
cod. decosil14012
multiple mould 5 mixed subjects
description
decoStick® Wood - Chocolate Lollies Moulds
multiple mould 5 mixed subjects
decoStick® for chocolate-praline sticks.
Snack of chocolate with nuts and chocolate creams simply decorated or covered with chocolate sprinkles or crispy.
Multiple mould to 5 fingerprints to create chocolate on a stick in animal shape:
Wolf - bear - owl - curly - fox
The innovative decoStick® moulds for chocolate allow to obtain quickly and effortlessly with chocolates on a stick amaizing and irresistible decoration for young and old.
measures
Mould type: multiple 1 face
Subject dimensions: MAX b cm 6,7 x h cm 6,5 x p cm 2,3
Mould dimensions: b cm 39 x h cm 10,8 x p cm 2,3
n° of subject per mould: 5
Mould weight: approximately 0,824 kg.
Chocolate OWL subject weight 53 g.
Chocolate PORCUPINE subject weight 37 g.
Chocolate WOLF subject weight 43 g.
Chocolate BEAR subject weight 59 g.
Chocolate FOX subject weight 45 g.
Step by Step
Ideas
From an idea of Gabriele Bozio for decosil comes a collection of moulds dedicated to the creation of subjects or geometric forms supported by sticks for snacks or desserts.
decoStick allows you to quickly create original finger-food and elegant appetizers, ideal for a buffet service.
Can be used with fluid products: chocolate, sugar, mousse, Bavarian, lollies, jellies or pastes such as ice cream, marzipan, steak tartare, fish or vegetarian.
Video
How to make chocolate amimal faces lollipops
The Step by Step video instructions to create chocolate animal faces lollipops

You might also be interested in the following products: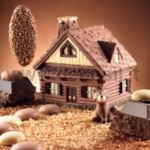 decosil5025
Product successfully added!